Facing Climate Change, A New Reality We Must Mitigate & Adapt To 🌎
A GHG Disaster 😡
As the world continues to become more and more industrialised, the burning of fossil fuels and the cutting down of forests means that industrial pollution has become a global issue.
Human activity continues to drastically increase Green House Gas (GHG) emissions, which in turn lead to a global increase in temperatures. This happens as emission gases create a 'blanket' around planet Earth, which traps the sun's heat inside our atmosphere. This is what causes global warming.
Addressing The Elephant In The Room 🐘
Due to climate change, we now experience more extreme temperatures, including drought, rainfall and associated erosion, floods, sea level rise among other issues.
In order to mitigate and adapt to this situation we have to ensure that our behaviour changes and the amount of Greenhoue Gases emitted in the atmosphere is reduced drastically. We must ensure that we keep within the 1.5°C to 2°C temperature increase, from pre-industrial levels.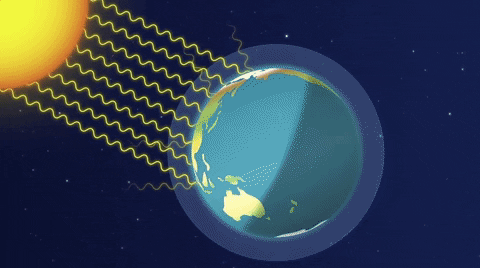 How you ask? The only viable way forward to secure a better liveable planet for future generations is to

mitigate

and

adapt

...
#1

- Mitigating Climate Change 🌎
Climate Change mitigation refers to efforts to avoid & reduce emissions of heat-trapping greenhouse gases into the atmosphere to prevent the planet from warming to more extreme temperatures.
Mitigation can mean using new technologies & renewable energies, making older equipment more energy efficient, or changing management practices / consumer behaviours.
The EU and its Member States have already committed to the reduction of GHGs emissions by 2050. Malta is aiming to become carbon neutral by that date too.
Malta will pursue this goal through its soon to be launched Low Carbon Development Strategy. The most important thing to take note of here is that every single action can result in an impactful positive change when considered collectively.
#2

- Adapting To Climate Change 🚧
Adapting to Climate Change means building up resilience, reducing risk, increasing our preparedness for natural disasters, anticipating adverse effects and taking appropriate actions to prevent or minimise potential damages.
Here Are Some Ideas:
Find ways to use our already scarce water resources in more efficient ways

Adapt our buildings for more energy efficiency

Shift to more sustainable transport modes

Build appropriate flood defences

Improve our infrastructures, including protecting them from sea level rise

Develop drought-tolerant crops
Adaptation strategies like the above are needed at national, European & international levels.
In this regard, Malta is already implementing its National Adaptation Strategy. This identifies recommendations for various sectors that are vulnerable to Climate Change, such as agriculture, human health or tourism, and suggests fitting recommendations.
According to the World Health Organisation, Climate Change is expected to cause approximately

250,000 additional deaths

per year worldwide from heat stress and respiratory diseases, among others.
Make A Difference 🙏
Climate Change is having a negative impact on our health, primarily in relation to clean air supply and safe drinking water. You ca😢n also check out the new SeedGreen Program launched by the Ministry for the Environment, Climate Change anc Planning and the Junior Chamber International Malta in collaboration with Malta Enterprise and enter the chance to win euro €12,000, €10,000 or €8,000.
For more information on how you can mitigate and adapt to Climate Change follow the #ClimateOn Campaign on Facebook and Instagram. #ClimateOn is a campaign run by the Ministry for the Environment, Climate Change and Planning - aimed at raising awareness.
#ClimateOn – Turn on the Power For Change!
Want to stay updated?
Our

full blog

can be found here 🚀