7 Tips To Making An Excellent First Impression In Your 1st Work Week 🤩
As part of FreeHour's Careers Month, we've been hard at work creating some super useful content for all of you looking to find your first proper job or career upgrade - as well as a new section on our app allowing you to submit CVs & even book interviews with local brands!
It's Time To Shine ✨
You've sent out your applications, sat for your interviews and finally landed a job! Now... it's time to kick things off on the right foot and immediately impress. Here's how 👇
1. B

e Polite & Make Friends 👋
First and foremost, you need to come across as very likeable & approachable in your first week on the job. Not only is this a vital part to making a good first impression, but it's also important to start developing these positive relationships with your colleagues from the start.
There'll be plenty of situations in the coming months where you'll need help or advice, so you're better off befriending those who've been there before you, so you don't ever fall behind when doing your duties.
You'll also build a positive image of yourself with employers, which may benefit you for years to come in the industry!
2. Overdeliver

💯
Don't just do what you're assigned, do more. It's important to show employers that you're an overachiever within your first week of work - in order to set the tone that you're taking your role responsibilities seriously.
Most people tend to overpromise then underdeliver, sadly this is probably the worst thing you can do and really ruins how people perceive your abilities. Instead, strive to always underpromise and overdeliver. This way expectations are low, but satisfaction is high.
3.

Be Proactive 👌
This almost comes without saying, but we can't not mention it. Your first week simply cannot be a week-long firefighting session, you need to stay ahead of the game.
In an ideal world, you smash your first-week todo list, and create a whole new todo list of your own to impress your bosses with. Think ahead and don't settle for less than you're capable of achieving!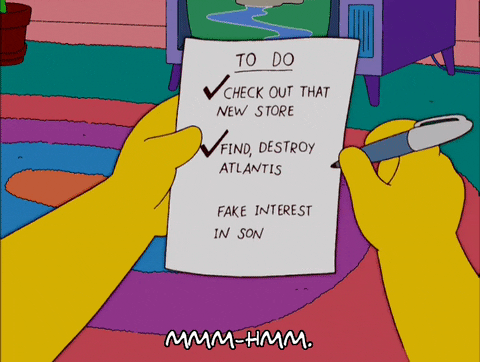 4.

Be Innovative 💡
Don't reinvent the wheel in your first week, be sure to obey and follow best practices...buuuut when you feel the time is right and you aren't overstepping any boundaries, it's great to come up with your own creative ways of solving problems.
Whether it be suggesting the use of new software, wording something differently in a template email or anything that comes to mind in a brainstorm session. Don't be afraid to show your creative side.
5.

Try To Help Wherever You Can 🥰
Following on the first point of being friendly, it's also great to show that you're useful.
Being there for your colleagues when they need you is a fantastic way to build chemistry and also reciprocation. This way if you ever need help in the future, which you definitely will considering it's only your first week, you know that your pals will have your back too!
6.

Don't Slow Yourself Down 🏃‍♂️💨
Regardless of what job you get, you're going to need to be aware & in control of your schedule. So, don't just walk into the office expecting someone to hold your hand - prepare a calendar, or word document, or some kind of organisational system ahead of time.
This ensures that you don't have days in your first week where you're still catching up from a previous day. Come prepared.
7.

Show Interest 🙋‍♀️
Make sure you don't come across as bored in your first week. You should seem excited & eager about not just your role, but everyone else's role too.
Try to ask as many questions about your responsibilities as possible, find out every single detail you can - knowledge is power.
Also, be sure to remain consistent in how you talk - don't be enthusiastic about work at the office but then complain at staff events 😇
Start Off Right! 😎
Don't underestimate your first week of work. Much like meeting someone for the first time, the first few days at your new job could make or break how certain people view you...
Be sure to work hard, follow the above tips and above all - be yourself!
Like this Career Tips article?


Update the

FreeHour App

& find more Careers Content, Send CVs & Book Physical Interviews on the new

Careers Month

section 🚀